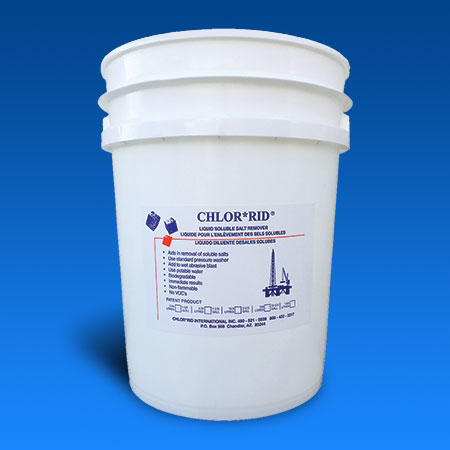 World-Leading Soluble Salt Remover
Compatible with all coatings

Apply through UHP pressure equipment

Dilute with potable water

Economical: Pennies per square foot

No rinse required

No Residue

Vapor/Mist blasting

Bio-degradable

Non-hazardous

No VOC's
CHLOR*RID® will not interfere with the adhesion of protective coatings & linings.
Bridge Structures

Ships

Mining Facilities

Storage Tanks

Public Utilities

Electronics

Offshore Drilling Rigs
Marine Structures

Process Equipment

Pulp and Paper Mills

Power Generation Plants

Natural Gas Facilities

Saw Mills

Petrochemical Installations
Piping

Cooling Towers

Railcars

Aircraft

and More
CHLOR*RID can satisfy your most aggressive requirements – simply, safely and economically. It is effective on most surfaces, including steel, foam, concrete, and plastics.
CHLOR*RID has been used by private industry, for federal and state highway coating and cleaning projects, to wash concrete dams, tanks, bridges, and machinery, even in a microbiological lab.
When your specification requirements requires consistent, safe and reliable removal of soluble salt contamination, use CHLOR*RID.
Always refer to product Directions, Data and S.D.S Information prior to use.