CHLORIDE/SULFATE/NITRATE ION TESTS FOR SURFACES
Most specifications do not address sulfates or nitrates because there has never been a sulfate or nitrate field test kit. Now there is a complete test kit available that tests all three salts.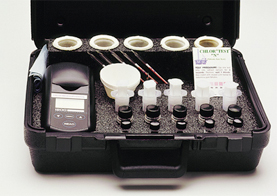 CHLOR*TEST "CSN Salts" offers the specifier the availability of trouble-free performance testings, in the field, for chlorides, sulfates, and nitrates with one extraction.
The CHLOR*TEST "CSN Salts" uses a unique patented extract solution, CHLOR*EXTRACTº, to retrieve surface salt contamination. This special extract enhances retrieval rates, thereby increasing accuracy. The greater the retrieval rate, the more accurate the test results.
Surface sampling is simplified by use of the patented CHLOR*SLEEVE® . Sampling can be done overhead, vertically, horizontally or any angle with this device.
Cross contamination is eliminated with one time use components
All test results are measured directly in parts per million. No conversion charts are needed.

Parts per million readings are a 1 to 1 ratio to micrograms per square centimeter. No mathematical calculations are necessary.
A NEW GENERATION OF TEST KITS
EPA compliant – No need to select a low or high range. Meters range is 0-100ppm with auto ZEROING.
Digital direct readings with a large 3-1/2 digital display incorporating low-battery warning.
European CE Mark of compliance for electromagnetic compatibility and safety.
Quantitative results are achieved in minutes. Each kit contains (5) individual tests with new refill kits available.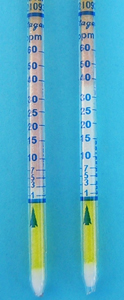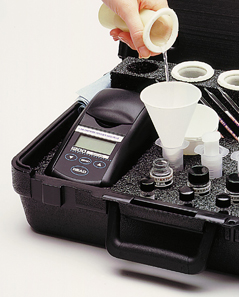 Colorimeter Specifications
Water resistant design

Auto zero

Hinged light cover

Digital direct readings

European CL-Mark compliant

EPA Compliant

9-volt power source (included)
Single wavelength

Photometric +-0.001 absorbancy

Accuracy +/- 1ppm

Low battery warning (BAT)

Overrange (Er2)

Burnt out bulb (Er3)
Optional Accessories
AC adapter 110 60 Hz/220 50 Hz

RS-232 Interface Cable
CHLOR*TEST® "CSN" SALTS kit is recommended for surface testing on:
Mining facilities

Ships

Marine structures

Storage tanks

Cooling towers

Pipelines
Power plants

Offshore rigs

Petrochemical plants

Pulp and paper mills

Steel fabrication

Electronics
CHLOR*TEST® "CSN Salts."
The revolutionary new method for testing salt contamination is the most accurate field test on the market today.
Maximize corrosion protection – reduce premature coating failure.
Test every surface before coating application.
When specifications require testing for chlorides, sulfates and nitrates, call your local distributor for
CHLOR*TEST® "CSN Salts."
The World's most complete "salt" field test kit for surfaces.