CHLORIDE ION TEST FOR WATER/LIQUIDS
Is your wash water contaminated with chlorides?
Many coatings have failed from chlorides deposited on a surface by contaminated water. Finally, there is a test that you can do in the field in minutes! No more sending samples to a laboratory; no waiting days for results; no high cost!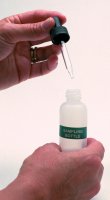 CHLOR*TEST "W" is a complete, ready to use test kit. Even an inexperienced person can accurately measure chloride levels.
CHLOR*TEST "W" was developed for field and laboratory use. Cross contamination from test to test is eliminated through one time use individual components. Accurate results in parts per million are obtained. No temperature correction is needed from 41°F to 176°F. Testers around the world will use this innovative product with confidence.
Whether in the laboratory or out at the job-site, obtain accurate ion specific measurement of chlorides from 0 – 2,000 ppm. Use CHLOR*TEST "W" for water and many other liquids.
Most Potable Water Is Chlorinated
When specifications require safe and reliable testing for chloride contamination use CHLOR*TEST "W". Each kit contains everything needed to perform five (5) individual tests.
Pressure Washing

UHP Water Jetting

Wet Abrasive Blasting